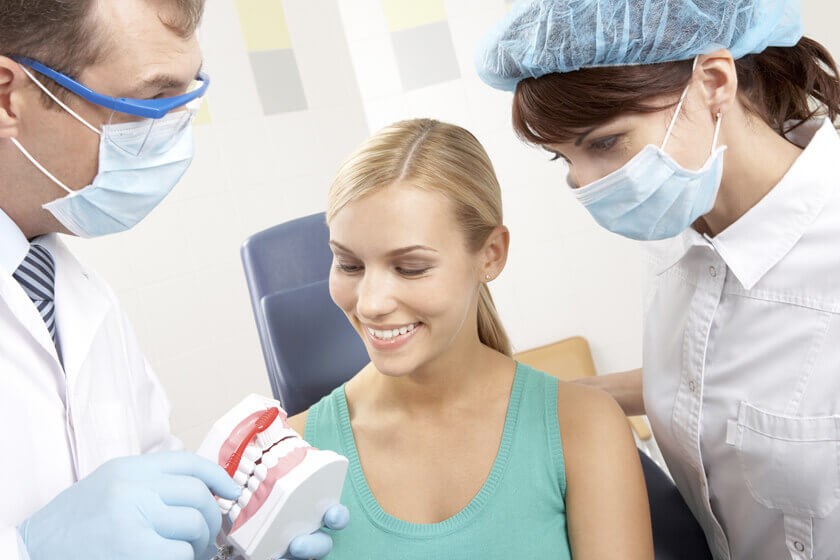 Maintaining a consistent schedule that consists of brushing and flossing each morning and night is necessary to ensure that your dental health is in the most ideal standing. However, what a number of individuals fail to realize is that biannual cleanings done by a dental professional are equally needed for your dental wellness. Biannual dental cleanings, also called prophylaxis, are a general dental care treatment that eliminates tartar and polishes the teeth. Having your teeth cleaned on a routine schedule might keep plaque, buildup, teeth yellowing, and many other problems controlled. Eradicating calcified tartar from the mouth can also get your teeth and gums into greater shape, as well as improve your breath.

Visiting the dentist a minimum of twice each year for dental cleanings is a vital part of any oral health regimen. Our talented team of dentists and hygienists uses contemporary approaches to conduct preventive oral care procedures and elevate the health and lives of Richmond, TX individuals. When you need a professional dental cleaning or have different oral wellness concerns, Waterside Dental Care hopes to be your go-to source for dental care. We welcome you to look through this article so you can learn what things you need to know when it comes to routine teeth cleanings and the ways this preventive dentistry service may help your smile, today and far into the future.

WHAT DO BIANNUAL DENTAL CLEANING SESSIONS ENTAIL?
Your routine dental cleaning at Waterside Dental Care will differ to address your particular oral requirements. Various other comprehensive dental care services might also be performed at a cleaning appointment to help you get the greatest benefits from your meetings with your dentist. Your other procedures could consist of dental sealants or fluoride gel. Teeth cleanings by our skilled Richmond, TX team are in-depth and individually tailored to enable you to achieve your most hygienic smile.

At the start of your appointment, we will learn about your medical history
Richmond, TX individuals are frequently shocked to discover that their dental health could have an impact on their general physical well-being. Before your teeth cleaning, your past and present medical conditions, including all drugs or supplements that you're taking, will be carefully gone over. This offers our staff a broader knowledge of your overall physical health and how it might link to your oral wellness.

After this, a hygienist on our dental staff will clean your teeth.
The majority of your professional cleaning session is dedicated to eradicating food particles and bacteria from your teeth. Plaque and buildup create a home in which damaging bacteria accumulate and produce acids that might potentially affect certain oral structures, including the teeth. The highly qualified hygienists at Waterside Dental Care will thoroughly eradicate the plaque and tartar from your enamel to boost your dental wellness and minimize the risks of certain conditions, like cavities and periodontal disease. Enamel stains that have accumulated on the teeth from dark beverages or other products might also be removed for a brighter and cleaner appearance to your smile.

Fluoride treatments will often be accessible to kids or adults who are prone to cavities.
A fluoride treatment is a common option we offer to enhance the teeth and safeguard against the formation of decay. This product is usually done for children, but it can equally be useful for teens and men and women who have symptoms of early decay, problems with cavities, exposed tooth root surfaces, and different points of concern. To help patients who are at an increased risk of developing tooth decay, fluoride could be applied to the enamel at the last part of their teeth cleaning visit.

HOW FREQUENTLY SHOULD I GET AN ADVANCED DENTAL CLEANING?
Regular teeth cleanings are usually suggested at least twice annually. However, patients who have periodontal disease or other dental issues may need cleanings more frequently. Our skilled Richmond, TX staff will identify your needs and help you determine the prophylaxis frequency that's adequate to make sure your enamel and gum tissue are in the ideal shape.

CHOOSE A DENTAL CARE PROFESSIONAL WHO'S COMMITTED TO THE WELLNESS OF YOUR MOUTH
The smile is easily one of an individual's most valuable traits. Getting routine teeth cleanings is vital to make sure that your smile is glowing, cosmetically pleasing, and in good condition. To make this possible, it's crucial that you trust a dental practitioner who is just as dedicated to the health of your teeth. Our team of dental practitioners at Waterside Dental Care is dedicated to improving the well-being of our many patients by using an individual approach to dental treatment. We encourage you to call our Richmond, TX facility today to schedule a visit for a routine dental cleaning.